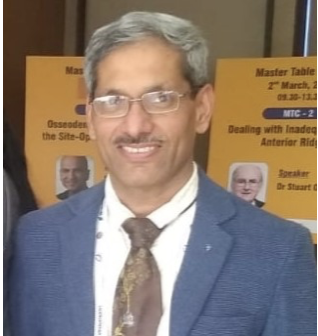 Dr. RK Sharma Sr.Prof & Head
HOD'S DESK
Greetings from the Department of Periodontology and Oral Implantology, Postgraduate Institute of Dental Sciences, Rohtak. The department takes pride in its focus on foundational knowledge in the field of Periodontology, enriching clinical exposure, rigorous pedagogy and empirical research with the aim to help students become well-rounded professionals.
OVERVIEW OF THE DEPARTMENT
Periodontology is the branch of dentistry which specializes in the study of prevention, diagnosis and treatment of diseases affecting the gums and supporting structures of the teeth and in the placement and maintenance of dental implants. The department of Periodontics at PGIDS, Rohtak is engaged in imparting instructions in Periodontology at both graduate, postgraduate levels and in Oral Implantology at Fellowship Program; managing the Outpatient Periodontics Clinic along with conducting relevant basic research in the field of Periodontology and its clinical application. The department is actively contributing towards empirical Research based exploration of link between periodontal diseases and systemic diseases.
Mission
To provide comprehensive evidence based patient care to all sections of the society.
To impart education and clinical training to undergraduate and postgraduate students within the framework of contemporary Periodontics and implant dentistry.
To enable students to become proficient in diagnosis and management of all forms of periodontal and peri-implant disease, including advanced cases which require interdisciplinary approach.
Engage in clinical and laboratory based ethical research pertaining to this field.
To encourage interactions between medical and dental disciplines and broaden the understanding of students in Perio-Systemic connection.
To equip Fellow Scholars with critical skills in oral implantology.
Patient Care
The Department of Periodontics runs an outpatient clinic and a minor O.T., both equipped with the latest technological advances in the field. Over a hundred patients are managed on a daily basis in the OPD. The treatment options include primary prevention procedures such as scaling and root planing, Open flap debridement, Periodontal Regeneration procedures, Periodontal Esthetic procedures, Dental Implant placement and management of the associated complications with Implant therapy. The aim is to provide comprehensive and individualized periodontal treatment to all patients and also to identify the need for inter-disciplinary dental management.
Research
The department of Periodontics is actively involved in various research projects. All postgraduate students conduct research under the active mentorship of their teachers. Apart from this, all senior residents and faculty members carry out research on various topics in the field of Periodontology including inter-disciplinary approaches.
U.G. Teaching
Students of B.D.S. third year, final year and interns are imparted knowledge through clinical practice as well as case discussions. Special emphasis is laid on teaching the undergraduate students to diagnose periodontal disorders, followed by planning and executing a treatment strategy. Rigorous training is also imparted to the students for gaining professional competence in patient communication and education regarding prevention of periodontal diseases.
P.G. Teaching
The postgraduate course in Periodontology is a three-year programme. The course aims to impart a comprehensive knowledge of current evidence-based findings in the fields of periodontal pathogenesis, microbiology, pathology, different non-surgical as well as surgical treatment modalities and implantology. In addition, rigorous clinical training is imparted to the students which ensures that they gain lot of experience in a wide range of advanced procedures.
Site designed and developed by Prof I/c IT and Telemedicine suggestions mail @ sukhdevchandla@uhsr.ac.in